NCL Tweet Up For Good Caribbean Cruise
Thanks to everyone who helped with our NCL Tweet Up for Good Caribbean Cruise aboard the Norwegian Spirit. Our cruise departed from New Orleans, Louisiana and visited the exotic ports of Costa Maya, Mexico; Santo Tomas de Castilla, Guatemala; Belize City, Belize; and Cozumel, Mexico. We brought over 400 pounds of school supplies, children's clothing, shoes, personal care items and medicines to schools, orphanages and disadvantaged communities in Mexico, Guatemala and Belize.

Favorite memories include:
* Having fun with over 60 cruisers on our first day at sea making fish and aquatic-themed decorations for a little two-room school in Mahahual, Mexico;
* Helping kids and Mahahual community leaders decorate their two-room school and watching the children's faces light up when they received beanie babies and other items. We also spent time with community leaders working on prospects for a future voluntour in this cruise port;
* Bringing much needed school supplies to schoolchildren in Guatemala and seeing the kids' excitement about receiving activity books, crayons, colored markers, pens, pencils, calculators, soccer balls, baseball caps and other items. Mothers stood on their tiptoes and peered through the slats in the school's walls to see the expressions on their children's faces as they received their gifts. The school teachers were so appreciative of the school supplies we brought, as they have very little here.
* Pulling clothing out of suitcases at a Belize orphanage that turned out to be well suited for a birthday girl and a number of the other children at the home. The orphanage happened to be having a birthday party that evening and the arts & craft supplies, festive foods and clothing donations we brought helped to make it special for the children.
* Reading If You Give A Mouse A Cookie in Spanish to a crowd of kids at an orphanage in Cozumel and dropping off school supplies for the Cozumel Chrysalis Group at a popular beach club on the island.
Here was the itinerary for our Together for Good cruise aboard the Norwegian Spirit:
January 3: New Orleans, LA
There are many local organizations in New Orleans that offer meaningful experiences for those who want to give back. With its strong commitment to voluntourism, the New Orleans Marriott is an excellent choice for a pre- or post-cruise stay. The hotel offers Voluntour Gumbo, an innovative partnership with non-profit agencies. This program matches groups of voluntourists with service opportunities in the New Orleans area and customizes itineraries to create a personalized experience. Special rates and services are available through this program. Visit the hotel's website at www.neworleansmarriott.com or the Voluntour Gumbo site at www.voluntourgumbo.org for more details.
Together for Good is facilitating donations to Covenant House, a charity that assists homeless and at-risk children and youth in their 70-bed Crisis Center and two transitional living residences. They welcome both volunteers and in-kind donations - check their website for more details. Then, we'll be boarding the Norwegian Spirit for our exciting 7-night cruise. The Norwegian Spirit has all of the hallmarks of a great Norwegian Cruise Line ship: lots of restaurants, extensive kids programs, cool nightclubs and lounges, and a marvelous "Freestyle Cruising" program that allows guests to do whatever - whenever. Get settled in and enjoy exploring your new home for the week. A welcome get together will be held onboard the ship to talk about our activities for the upcoming week and make final plans.
January 4: At Sea
Our leisurely day at sea provides the perfect opportunity to relax and get to know each other. The Norwegian Spirit offers lots of fun activities at sea as well as plenty of opportunities to take a dip in the pool, get a spa treatment, play bridge or bingo, see a show, or hit the gym. At a meeting later in the afternoon, we'll organize our materials, review our plans for our upcoming exciting ports of call, and make decorations for the kindergarten and primary school in Costa Maya. You can participate in organized ship shore tours or come along with Together for Good on our giving back excursions when available. It's all up to you.
January 5: Costa Maya, Mexico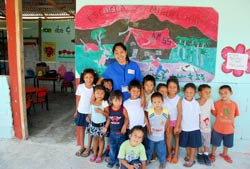 Beaches and doing good combine beautifully on our day in lovely Costa Maya. The port of Costa Maya offers an enticing combination of crystal blue waters and alluring beaches, kid-friendly activities, adventure tours, historic sights, and good shopping. This beautiful region is located about a four-hour drive south of Cancun, Mexico. Protected by the second largest coral reef in the world, the area is home to lovely white sand beaches, the spectacular Chacchoben Mayan ruins, the charming town of Mahajual, and a variety of opportunities for cultural interaction.
Our Together for Good shore trip in Costa Maya has been developed with the Uai Nat Ze Foundation and members of the local community. Our first stop will be at a small two-room kindergarten and primary school in a very low income area. We'll decorate the school with the help of children and local community leaders and provide school supplies. Next, we'll visit a pregnant mothers and infant development center and a small kindergarten in the Las Casitas area, bringing supplies to help underprivileged children in the local community. Our tour will also take us to the medical clinic in Centro de Salud to learn what is being done here. Finally, our group of volunteers will visit the site of the new planned children's playground with community leaders. Afterwards, participants will have the option to enjoy lunch and play in the Caribbean before heading back to the ship.
January 6: Santo Tomas de Castilla, Guatemala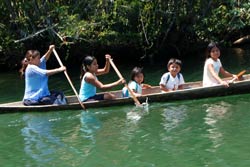 The port of Santo Tomas de Castilla offers opportunities for exploration, cultural interaction, historical tours, nature walks and hiking, and shopping for a wide variety of indigenous handicrafts.
Today, our Together for Good group will be taking a leisurely 5-hour trip up the Rio Dulce by water taxi to visit communities and a local school in the Livingston area. As part of our humanitarian tour, we'll be bringing much needed school supplies and other items for students as well as some donations for a large orphanage of over 250 located up the river. Schools in this area suffer from a severe shortage of basic materials. See the children's faces light up with smiles as you get together with them and hand out school supplies. Our group will have the opportunity to meet and interact with members of the local community, have lunch, purchase locally made handicrafts, and enjoy the beauty of the Rio Dulce region. Our activities will do good, promote cultural exchange, and give back to communities in need of assistance. When we return to the port area, there will be opportunities to shop for handicrafts and souvenirs before re-boarding the ship. Don't miss tonight's memorable sail away, as the taxis and tour drivers line up their vehicles and flash their car headlights and community members wave to wish us a heartfelt goodbye.
January 7: Belize City, Belize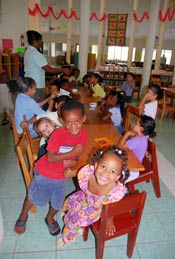 Divers, snorkelers, adventurers, historians and shoppers all flock to Belize. The port of Belize City is the gateway to the longest barrier reef in the Western Hemisphere, tropical rivers and rainforests teeming with wildlife, over 600 Mayan sites, and some excellent shopping opportunities at the cruise terminal.
In our Belize port of call, our Together for Good group will be bringing personal care items, children's clothing, kids' shoes, OTC medicines and school supplies to two local orphanages. Located a few miles from the cruise ship dock, The Dorothy Menzies Child Care Centre is a residential childcare facility and orphanage that houses neglected, abused and dependent children. Next, we'll be heading to the Liberty Children's Home in Ladyville. This orphanage is home to up to 45 abandoned, abused or orphaned children between the ages of 1-15. Here, we'll spend time volunteering and playing with the children and drop off donations of clothing, shoes and personal care items. Then we'll visit the ancient city of Altun Ha, once a key link in the Mayan trade route through Mexico's Yucatan region. This site was made famous by the discovery of the world's largest carved jade head, depicting the Mayan sun god Kinich Ahau. Altun Ha contains the 2000-year-old remnants of 13 key structures surrounding two major plazas. Stone steps will enable you to climb to the top of three of the main temples. At the end of our tour, you'll arrive back at the Belize port facility where you can shop, enjoy local drinks, or return to the ship to relax.
January 8: Cozumel, Mexico
Cozumel is the largest island in the Mexican Caribbean and one of the most popular cruise ship ports of call in the region. In fact, Cozumel receives more cruise ships than many other ports in the Western Caribbean. Here, cruise passengers will find an incredible array of options for spending their day in port. This little island is loaded with duty-free shopping, world-class snorkeling and diving opportunities, wildlife encounters, adventure tours, cultural experiences, enticing bars and restaurants, and so much more. Those who wish to venture over to the mainland can visit the seaside Mayan ruins at Tulum or Xcaret, an immense eco-theme park complete with a dolphin encounter program, a bird sanctuary, a butterfly pavilion, underground rivers, restored Mayan ruins, beaches, and a variety of water activities.
Today, our Together for Good excursion will deliver much-needed items to a local orphanage that provides a family-oriented living environment for over 20 children in Cozumel. Next, we'll head to Paradise Beach, a popular beach club that serves as a drop-off site a community-based non-profit organization that provides school-related materials to low-income Cozumel families. Since Mexican public school students must provide their own uniforms and school supplies, many Cozumel families lack the financial resources to send their children to school. Here, we'll drop off school supplies such as backpacks, pens, pencils, scissors, and other items to help children in need. Then we'll spend the rest of the day at the beach club, where we'll enjoy beach chairs, umbrellas, hammocks, and the use of non-motorized water toys. Lunch, snacks and drinks are also available for purchase.
January 9: At Sea
Free day! This is a wonderful day to relax on the ship after our exciting days in port. Check out the ship's daily bulletin and choose from a wide variety of fun activities - or just lounge around enjoying the sun by the pool. Our fantastic Norwegian Spirit crew fills the day with contests, sporting events, fitness programs, shopping opportunities, and fabulous meals.
January 10: New Orleans, LA
Our cruise ends today as we arrive back in New Orleans. If you can, take some time to enjoy the sights and sounds of the city before heading to the airport on your way home. The W Hotels of New Orleans are offering a special rate for Together for Good cruise passengers who would like to spend an extra night post-cruise in New Orleans. When you depart, you'll leave with new friends and fond memories of the many ways you've helped others on this trip.
For more information about this cruise and other upcoming Together for Good trips and activities, contact Nancy Schretter, Together for Good's Founder. She can be reached at KidTravel@aol.com or nancy@togetherforgood.org.