Destinations Directory
Through our research, Together For Good has located a number of schools, orphanages, charities and organizations in the Caribbean, Central America and Mexico that welcome in-kind donations to assist in their endeavors.  Take a look at the country links on the right-hand column for more information.
A number of these organizations have been visited.  In many cases, we have relied on the information provided by volunteers, directors, and other individuals involved with these groups and we do not guarantee the completeness or accuracy of the information provided. Use the information you find here as a starting point for doing your own independent research on these organizations to determine which, if any, you would like to help on your travels.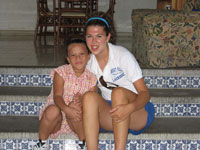 Before selecting an organization to help, think about what you want to achieve and the time of year that you are traveling.  Dropping off supplies can usually be accommodated year-round.   If you would like to spend time interacting with the children at an orphanage, check in advance to make sure this will be possible and arrange for the best time to visit.  Some orphanages welcome guests to stay for as long as they like, while others limit visits to specified periods of time and do not allow pictures.  Advance contact will help you to make the most of your experience.  
If you are traveling during the summer or major religious holidays, remember that many schools are not open during these time periods.  In some countries such as Dominican Republic  and Jamaica, however, there are organizations that collect supplies for schools during vacation periods.  See the country links on the right-hand side of this page for more details.
Since we are operated by teens for teens, we do not have the resources to certify all of the entities listed here and there are many more organizations that we have not found. Although schools, charities and other organizations are listed on this site, neither Together For Good nor anyone affiliated with Together For Good are responsible for the activities of these organizations or their members.  Contact the organizations directly for more detailed information on their work.  Together For Good has no financial involvement in these organizations.
Antigua
Aruba
Bahamas
Belize
Costa Rica
Dominican Republic
Grenada & the Grenadines
Guatemala
Honduras
Jamaica
Mexico
St. Lucia