Stories
Together for Good has been included in numerous print and online media articles since its inception. Several our most recent stories include:
Agent@Home Magazine, February 2016: Travel with a Purpose.
FoxNews.com, December 2015: The new 'voluntourism': Low commitment, high impact.
TravelChannel.com, December 2015: Things You Absolutely Must Do With Your Kids Before They Turn 18
Chicago Tribune, November 2015: Taking the Kids -- and giving back on vacation in Tanzania.
Leisure Group Travel, August 2014: Giving Back Is Big In Family Travel.
USA Today, March 2014: 10 best family volunteer vacations.
FoxNews.com, February 2014: Top family spring break getaways.
International Business Times, December 2013: 'Tis The Season Of Giving': 5 Organizations Helping Everyday Tourists Make a Difference
Together for Good has also been featured in Porthole Magazine, Travel Agent Magazine, Newsday, The Miami Herald, Dallas Morning News, American Way, Boston Herald, and many other print and online publications.
Together for Good staff and readers have volunteered and brought in-kind donations to a number of local institutions and organizations focused on education, the needs of children, community initiatives, animal welfare, healthcare, nature and the environment in the United States, Mexico, Central America and the Caribbean. Each experience has always been a little different. On this page, we thought we'd share a story submitted by one of our readers about a visit to a local school. We hope this story will give you an idea of what to expect and how special giving back can be.
Visit to a Primary School
As our van pulled off the road into the dirt driveway, I could see about 40 kids running around in the field in front of a little primary school. We got closer and their faces turned to us, smiling and laughing. I was not sure what to expect.
It was recess when we arrived at the little grade school. As we got out of our van, a few of the kids came running over to take our hands. We said hello and started talking to them. The language of warmth and human contact mattered more than the words.
A few minutes passed, and then almost all of the kids came swarming over to us. They hugged us and took our hands. We laughed, they gave us high-fives and smiled at all the attention they were getting. When one five-year old boy with a round smile looked up at me and put his arms up in the universal "pick-me-up" symbol, I did just that. I lifted him into the air and he giggled. Almost everyone followed his lead. It took us awhile to lift everyone into the air, but it was fun to see the kids' bright smiles.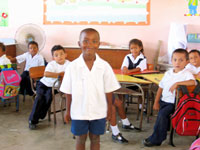 We met with the principal and the teachers, gave them the school supplies, and wrote down our names and items we brought in the school's donations book. After that, we walked into one of the classrooms. The rooms looked full of love, but empty of all of the books, crayons, art supplies and items that we usually see in classrooms at home. The desks looked worn and strings with numbers and words hung from the ceiling. The kids and teachers were thrilled with the donations and thanked us for our gifts. It was a great feeling! We gave the kids some attention and the kids returned the love. It was fantastic to do something good for other people that need and appreciate the help.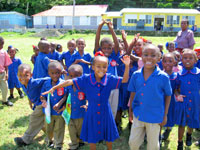 We took pictures of the kids as we were leaving to share with them. The kids smiled for the camera and formed into a tight circle to look at the pictures. One of the teachers asked if we could send some of the pictures back to the school, as the kids love to see themselves in pictures and rarely get them. We promised to do that upon our return home. As we left, the kids waved and looked like they appreciated the time and attention. I felt connected and happy for what we did. It felt good to give back.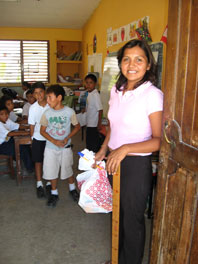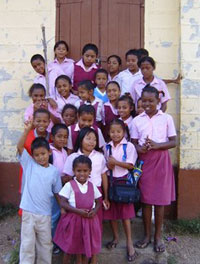 We'd love to hear your stories about giving back to others and making a difference while you travel. Please contact Together for Good's Founder, Nancy Schretter, at KidTravel@aol.com with stories and additional information. We look forward to hearing from you.