Helping Others On Cruise Vacations
Cruise vacations can offer opportunities to make a difference and give back to others. Several cruise lines offer voluntourism–oriented and purpose–driven shore excursions on their cruises. These include Carnival Cruise Line, Crystal Cruises, Holland America Line, Hurtigruten, and others.
Carnival Cruise Line has developed a series of immersive Give Back with Purpose shore excursions that are available in a number of ports of call in the Caribbean and Mexico. On these fully–guided shore excursions, guests connect with local organizations assisting those who need it most. A portion of Carnival's Give Back with Purpose shore excursion fees go to the non–profits involved in the tours. Holland America's Cruise with Purpose shore excursions and Crystal Cruises' You Care, We Care voluntourism excursions are also offered in numerous ports worldwide. Onboard fundraising and giving back activities for charitable causes regularly take place on many cruise lines including Carnival Cruise Line, Holland America Line, MSC Cruises, and others.
Cruise guests can also take a social impact shore excursion with independent tour operators in selected ports of call. ShoreTrips, a leading independent tour operator, has partnered with California non–profit Hope Floats to provide voluntourism–related shore excursions in a variety of Caribbean ports of call. Some local independent tour operators also offer opportunities to give back to others in their communities as well. If you're simply planning on dropping off in–kind donations, check the Pack for a Purpose website for information and some suggested drop–off points.
Cruise guests can create their own voluntourism–related experience in port with some advance research. We have found many opportunities to assist with education, the needs of children, community initiatives, animal welfare, healthcare, nature and the environment, and a variety of other activities in popular U.S. home ports and international ports of call including:
Belize City, Belize
Cabo San Lucas, Mexico
Cozumel, Mexico
New Orleans, Louisiana
Ocho Rios, Jamaica
Port Canaveral, Florida
Puerto Vallarta, Mexico
Roatan, Honduras
See Together for Good's Destinations Directory for more details on opportunities in these and many other locations.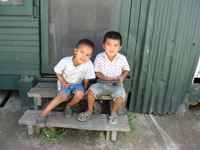 One of the first steps in giving back to others on a cruise vacation is to determine your schedule and figure out when and where you want to help. We've found it to be quite easy to volunteer and drop off in–kind items when we have planned our own independent shore excursions, either by getting our own driver if we're planning to be there for the day or just working the visit into our other plans if we're making a short stop. Taking a voluntourism–oriented shore excursion available through your cruise line or an independent tour operator makes the logistics even easier.
After having done a number of independently–planned giving back excursions, our suggestion would be to choose your ports and organizations in advance of your visit, contact the organization to determine the best times to come by on the day you are in port, and then make arrangements for transportation ahead of time if possible. For cruise ship passengers, contacting organizations in advance is particularly important because of the limited time available on shore. It is strongly suggested that first contact be made at least two to three weeks in advance of your visit.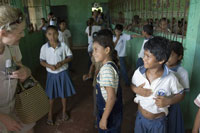 In our Together for Good work, we have been in touch with many of the major cruise lines about the possibility of helping others while on a cruise vacation. We have had considerable personal experience with this as well. It's very important to think about customs when bringing donations along on your trip. We have often brought along a large backpack of items for each organization that we've visited, and that has worked out well. It's even better if you can purchase in–kind donations locally, though.
Here are a few recommendations that have been supplied by the cruise lines:
Make sure you can carry the items off the ship by yourself. A backpack or duffle bag generally works well. If you're planning to bring a large quantity of donations, check with your cruise line well in advance of your sailing date.
If you are planning to donate items, stop at your ship's Guest Services desk on the first day of your cruise and let them know. The Guest Services staff can then notify Customs in the port of call and help you complete any paperwork that's needed.
Customs in each port may be different. Some ports will just let donations go, others may charge duty. Bring receipts as well as detailed information on the organization receiving donations.
Research the possibility of purchasing in–kind donations once in port, as it supports the local economy. Some ports, such as Cozumel, have several large stores located nearby.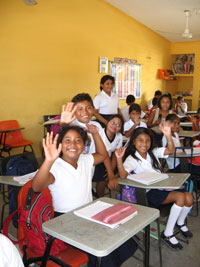 By special arrangement, cruise lines such as Carnival Cruise Line, Norwegian Cruise Line and Royal Caribbean have taken larger donations into ports, such as computers, large quantities of books, and other items. Notify the cruise line well in advance if you are bringing along large quantities or bulky items to find out if there are any Customs issues and what documentation will be needed. In addition, many airlines provide extra baggage weight allowances for charitable donations. If you are interested, check with your airline to see if they need a letter from the organization to which you are donating in order to give you a luggage waiver. Most organizations will be happy to give you a letter if you let them know in advance.
Some of our most rewarding social impact trips have been aboard cruise ships. Taking just a few hours or a full day to give back on your cruise can make a difference in the lives of others. Each place that you visit will be different, but they are all very appreciative of your help. Have a great time!
"Life's most urgent question is: what are you doing for others?"